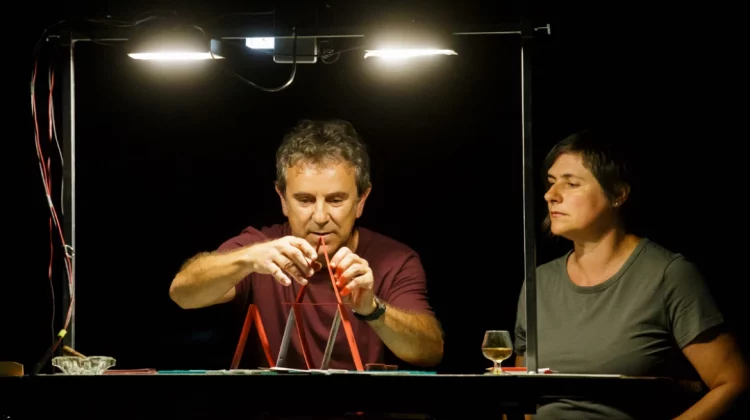 One of Spain's very first road deaths took place on a hairpin bend in 1927 Ourense, a province of the northwestern region of Galicia. The deceased, one José Fernández España y Vigil, was a civil engineer employed to study the layout of the southern bypass of the railroad – a proposed new section of the line promptly abandoned after his death.
España y Vigil's car veered off the road on a foggy night on this particularly tight bend near the town of Verín. According to local sources, the car was illogically accelerating rather than breaking on the curve, causing the vehicle to spin out of control and crash into the ravine. Before it did so, another man in the car – realising what was about to happen – leapt out to safety. He subsequently disappeared from the story altogether.
What happened that night, its causes and its consequences, its facts and its fictions, is at the root of this gripping, informative and entertaining Galician production featuring comic actors Patricia de Lorenzo and Miguel de Lira. Created by award-winning theatre company Chévere (N.E.V.E.R.M.O.R.E.) and written and directed by Vigo-born Xron, Curva España (punningly surtitled 'the history of the bend that killed España (or Spain)' is an allegory of the construction of the Spanish nation state as if it were the promise of a train that never arrived.
The show adopts the methodology of the true crime genre to present the case through multiple perspectives: local legend and official sources intertwine via documentary materials, visual reenactments, present-day interviews and theatre. An "unapologetic road movie", as one critic observed, Curva España makes diversions into Spanish social structure – a stitch up, by all accounts – the so-called 'caciquismo', where a few powerful families club up to protect and further their interests at the expense of everyone else. There is a brief and fascinating history of the Spanish railway; its slow, gruelling and arbitrary progression, the stops it remembered and the towns, villages and swathes of now-abandoned Spain, it forgot.
Curva España also reintroduces one of the heroes of the moment: Eloy Luis André, philosopher, psychologist and writer was born and bred in Verín and bent over backwards to try to get a train to stop there, quite logically connecting this agricultural town with Vigo, a thriving port city on the Atlantic coast, and with the rest of the nation. On 26 May 1927, the day of Spain's untimely death, André's hopes ended. Today, the nearest train station is at La Gudiña, some 31km to the east of Verín. Many of the town's residents have had to move away. What remains is the conviction firm in the local imagination of a grave injustice that, nearly a century after the death of España, lives on.
---
New dates: see Grupo Chévere