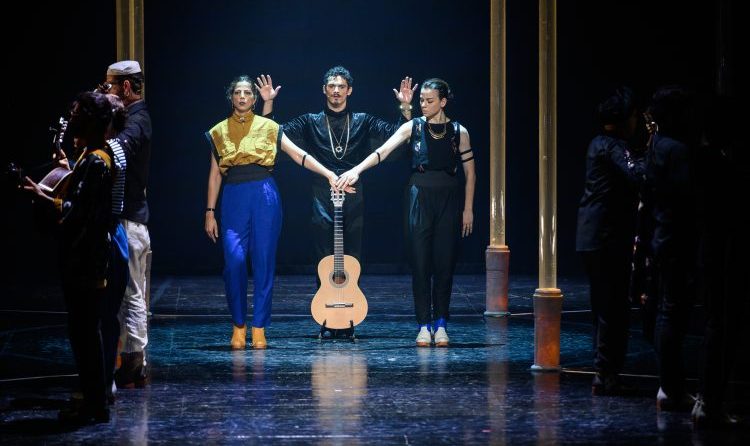 There is a story that the renowned fado singer Amália Rodrigues was in a hotel room in New York contemplating suicide; to stave off the depression she watched videos of Hollywood legend Fred Astaire tap dancing. Tap, or at least a style of footwork known as 'zapateado' is central to flamenco, but also to the lost art of fado dancing. Fado associated with Portugal is famed for its melodrama and its melacholia, but is traditionally singer-centred and performed by a musical trio: a soloist, a classic guitarist, and a Portuguese guitar player.
Fado's lost dance has been revived in a vibrant production by Portuguese / Brazilian contemporary dance duo Jonas & Lander. Created in 2021, Bate Fado is a hybrid dance-concert experience, sleek enough to pull in crowds yet irreverent enough to be off the tourist beat: a real delight featuring nine performers: four dancers, four musicians, and a fado singer.
As the duo explained, the idea began in Seville in a comparison with flamenco. "Fado dance, that disappeared mysteriously in the 1900s, once had both Spanish and African influences, like flamenco," says Jonas, who sings, plays and often dances, too, throughout the 90-minute piece. "Our research revealed that it was frenetic style of tap with a seductive element, a form of courtship."
Fado music has disputed origins. It may have sprung up in the aftermath of the devastating Lisbon earthquake in 1755, or earlier. Fado entertainers were from the poverty-struck urban areas, where shady encounters took place between prostitutes and sailors. Although Lisbon's style of fado is the most popular, Coimbra's version that evolved around the university is considered the more traditional style, and may date back further. There are many subgroups. But fado was, Jonas says, once considered rather offensive: the 'fadista' was an edgy figure, and dancing fado, rebellious.
Fado may too have originated in Brazil, as the location where thousands of Portuguese fled Napoleon's invasion in 1807, and where Rio de Janeiro was the capital of the Kingdom of Portugal for over a decade. It was in Brazil that the earliest accounts, in text and image, of the fado dance were found, says Lander: "as a form of cultural expression that was very disorganised"; a European-style square dance with improvised lyrics and dancers who mimed along.
The public square with the church in the background inspired the set; a cross of confetti-filled black balloons quivers amiably in the background. 19th century missionary zeal in Brazil meant many dances were prohibited, so it stands there as a symbol of silence, says Lander. However, the church, so integral to fado, can represent many things: celebration as well as funerals; community as well as repression.
In the 20th century, fado was co-opted by the Salazar dictatorship in Portugal as a symbol of national pride. It (and Rodrigues as its most famous singer) were tarnished by its association with fascism. In Coimbra, however, fado retained its elements of protest and, points out Jonas, the international associations of fado belie its use as a national stamp. Take the Portuguese guitar, descended from the medieval citole, of which the only remaining example is in England in the British Museum.
In Bate Fado, dance is a percussion instrument in dialogue with the voice and the guitars. "As we did not have a model of fado tapping or 'hitting' to follow we took on dancers that worked with another urban style, hip hop," says Jonas. "Fado is like reggaton, samba, or flamenco an urban music. It began on the margins and slowly filtered into mainstream society." A description of a famous practicioner "who danced on eggs without breaking one!" inspired Bate Fado's light-footed style.