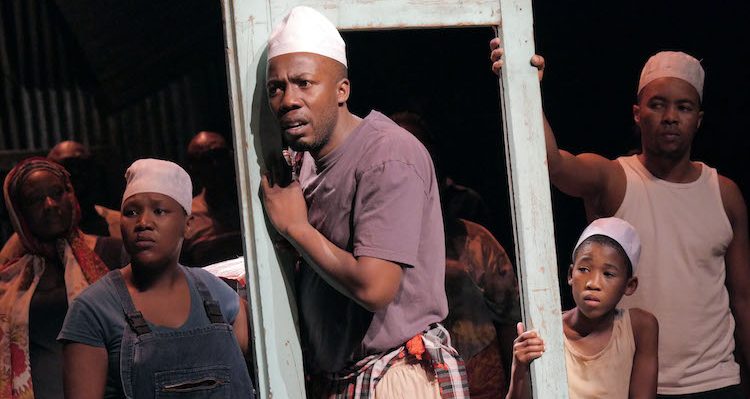 Heavy themes of war, poverty, racial and gender violence are lightly thrown in A Man of Good Hope, a slick musical theatre production in English set in Africa and performed by Cape Town company Isango Ensemble. Based on 2014 book by white academic Jonny Steinberg, it tells the story in song, dance and narration of a Somali boy who travels across the continent, winding up in Johannesburg where he faces horrible xenophobia.
Educating the West
Education and entertainment combine to tell this traumatic tale, suggesting a target audience of young or highly-sensitive 'westerners'. This seems at odds with a major section of the public desperately in need of the verve of the black South African cast, who come mainly from poor townships and who earned their parts without the costly requirement of a formal education or theatre training.
A global collective
The aim of the production is to bring a South African slant to universal themes, says Mark Dornford-May, the Yorkshireman who co-founded Isango Ensemble twenty years ago. "The two biggest refugee crises today are caused by climate change and poverty. We have to deal with them as a collective of humanity".
New age, new rules
But, who is writing the rules for humanity now? Who benefits from the careful-not-to-offend-or-lecture approach – and at whose expense? There is an outmoded caution in this production (created in 2016 in collaboration with London's Young Vic) that relieved a multicultural British public overwhelmed by Brexit divisions; but five years on, it seems too hesitant for the times: not in content or performance, but in structure and spirit.
Capturing audiences
South African co-founder and co-music director Pauline Malefane speaks of the challenges: "We are losing audiences, especially younger audiences, whether because they don't relate to what is happening, because of the stories, because of the people that tell the stories… we incorporate younger actors so that our stories are more relevant, we want the youth on our side because that is where the future is".
Speaking through music
Co-music director Mandisi Dyantyis, whose compositions drive the production, and draw on jazz, folk and classical music believes audiences have not changed that much, but that the approach always needs interrogating: "While there has been a lot of change between generations, certain things remain the same. We must realise that we as a company are part of those communities, we learn a lot about the stereotypes that we perpetuate".
Scott Joplin
These deliberations meet with an opportunity: Isango Ensemble's next piece revives a work by African American composer Scott Joplin, 'king of ragtime'. Created in 1910, Treemonisha is extremely relevant, says Dornford-May: "the first ever American opera was written by a black man for a black cast, and is about a young woman who is trying to get her community to understand that the way forward for society is through education, and through respecting women".
Channel the rage
Back in 2010, Dornford-May got into big trouble by calling out the South African theatre establishment for being overwhelmingly white. Now, Isango Ensemble has something to say, and they need to channel that energy again. In this age of urgency, 'good hope' has its limits.
---
Teatre Nacional de Catalunya
18 – 21 November 2021