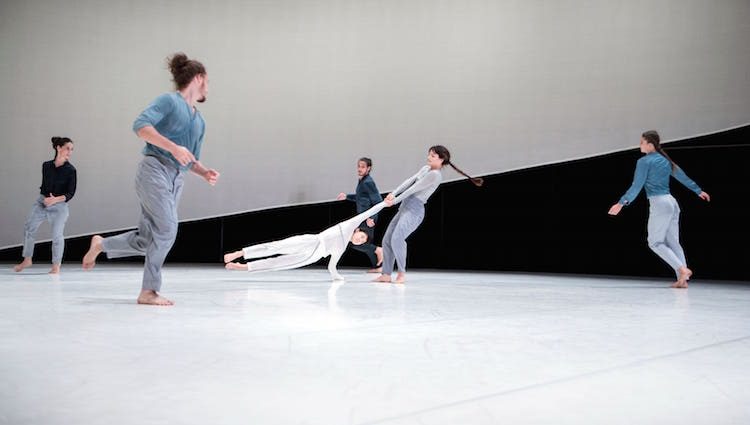 As the third part in an open-ended trilogy, Made of Space, created by the accomplished Barcelona-based duo Maria Campos and Guy Nader, pushes further (or higher) an ambitious examination of the principles of physics: matter and its motion through space-time, energy, force and the workings of nature.
Precision
Challenging in its abstract premise, yet open and adaptive to its external limitations: the space itself, the oxygen-starved audience (glasses misting over masks) as well as the logistical restrictions that required fewer dancers be employed than planned, Made in Space is an engaging, intricate and organic piece, reassuring in its precision and fluidity.
Dynamism
Super-fit dancers Maria Campos, Alex de Vries, Noé Ferey, Patricia Hastewell, Anamaria Klajnšček and Maxime Smeets maintain expressions of absolute calm while they offer dynamic interactive, reactive and occasionally acrobatic conjunctions, making constellations that come together and break apart. While just over an hour-long (67 minutes) time expands and contracts as minds do, in moments of focus. Musicians, Miguel Marín and Daniel Munarriz, are central to the piece: symphonic on the big xylophone, a concert in their own right.
Perspective
An obvious motif is the spiral: a huge actual imposition, says Campos, that bears down on the stage and requires that the dancers work around and under it, without knocking themselves out. With the blue-grey colour scheme and costumes, the feeling too is compressed yet expansive: like being propelled in a plane through the stratosphere, that blue-grey strip of thin air through which we move mechanically – incrementally or at phenomenal speed, depending on your perspective.
---
Mercat de les Flors
Barcelona
22 to 24 October, 2021