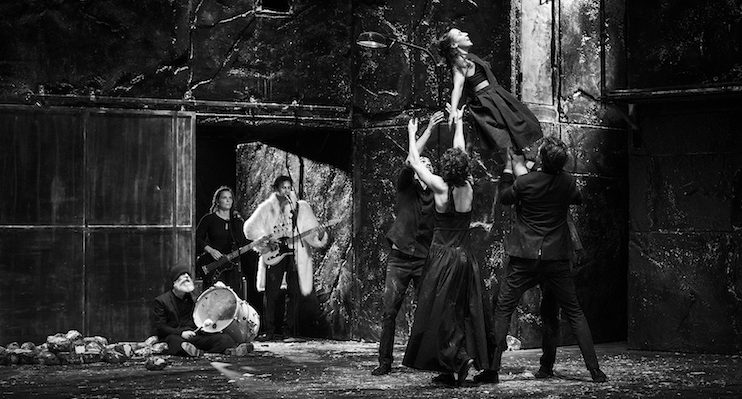 The circus and performing arts troupe Baró d'evel, formed by the award-winning French/Catalan duo Camille Decourtye and Blaï Mateu Trias, expands its repertoire with a smart and sophisticated production for eight human performers, one white horse and a flock of pigeons.
Falaise, that premiered at Barcelona's Grec festival in July, is the second half of a diptych entitled Là, sur la falaise ('up there, on the precipice'). Là, a duet, sold out at the Lliure theatre in Gràcia and the versatile company, which makes productions for the public space and the big top too, revels in the bigger space of the Montjuic branch.
Falaise offers a counterpoint to Là, a 'flip side' to the coin. While black and white are the set colours of choice, the piece paints a poetry of grey areas, of nuances rather than extremes. Movement and pace has a softness and pliability (the production counted on the help of acclaimed local dancers Mal Pelo). The stressful image of the cliff edge is soothed with an edgily topical humour that salvages the slapstick.
Scenographer Lluc Castells has constructed an urban setting illuminated to represent various stages of nighttime. It seems both primitive and contemporary: a cavernous quarry of slate rock industrially cut into apartment blocks. In an indoor/outdoor exchange of spaces, life teems behind slick façades, puncturing through with an unexpected escapee: a runaway bride or a fur-coated celebrity kick their way out with the amplified rush of rubble and dust. Pigeons flap about dangerously, their potential splatter represented instead by designs evoking the primitive, a homage to Tàpies or Miró perhaps!, graffitied across the walls in white paint.
Serene, magical yet confident and contemporary, Falaise proceeds in a series of sketches, wandering off a bit in the middle, coming again into focus, always evading exuberance, melodrama or forced meaning. There is, however narrative… for an effective lyrical transcription of Falaise note the intervention of the Nick Cave song Mercy Seat.
---
Falaise – Baró d'evel
Teatre Lliure – Montjuic
until 13 October 2019
multilingual (but mostly visual) – all audiences
Photo: © François Passerini