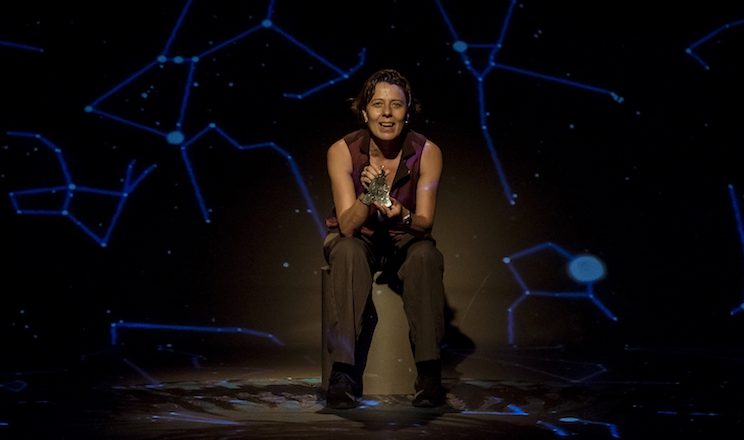 This Catalan adaptation of British playwright Hattie Naylor's multilayered play Going Dark is an understated yet cosmically ambitious production that transforms the Espai Lliure into a planetarium; a claustrophobic yet mentally expansive dark space, where the wonders of the universe are projected onto a stage dressed up as moon's surface.
With significantly fewer resources than the 2012 London production, which counted on immersive theatre specialists Sound&Fury, the Catalan team led by Pep Pla has created a charming child-like set, something reminiscent of Michel Gondry's film The Science of Sleep or the clunky puppetry of 1960's TV show Thunderbirds (to which the play makes reference); a vintage reimagining of space exploration and the dangers and wonders you might find there.
In a gender switch from the original play, Anna (Míriam Iscla) is an astronomer who gives talks at the planetarium. When experiencing problems with her peripheral vision, she is diagnosed with retinitis pigmentosa (RP), a rare eye disorder where sight is reduced to to a pinprick. With it come terrifying 'hallucinations', tricks of the eye that appear to her like an attack of birds. Anna faces this with stoicism; her greatest concern is for her continuing care of her 6-year-old daughter Maria – voiced by Daniela Lucas.
Lengthy and at times too didactic, the strength of the play is its enthusiastic drive, as well as its instigation of a profound awe and respect for those who navigate the world without sight. In a shift on perspectives, as vision is reduced the world expands in a big bang of sound, an explosion on the senses.
---
Abans que es faci fosc
Teatre Lliure – Montjuic Espai Lliure, Barcelona
until 20.10
in Catalan
Photo: © David Ruano