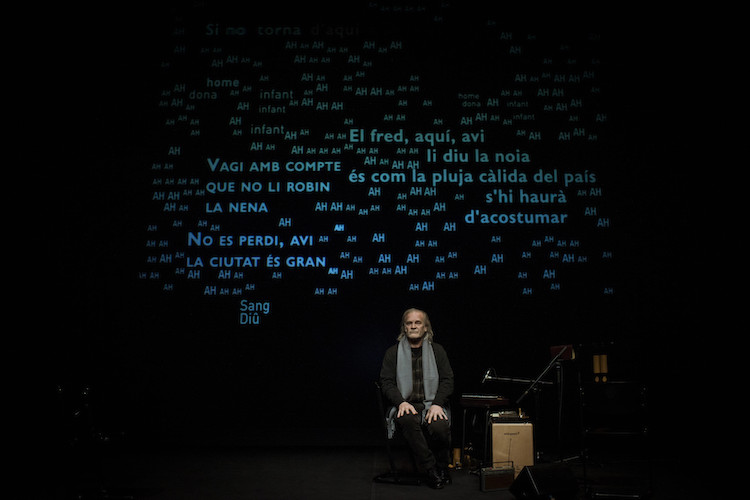 Philippe Claudel's best-selling short novel is brought to the Catalan stage in a theatrical collaboration between Belgian director Guy Cassiers and Catalan actor Lluís Homar. based on a Belgian production, La néta del senyor Linh is a poetic reflection on the fortitude and fragility of human relationships.
Monsieur Linh is an elderly refugee who arrives on a ship from an unnamed country to settle in another, cold, grey and apparently indifferent. He is accompanied by his infant granddaughter, Sang Diu, and driven on by his determination to protect her. With no idea of the local language, Linh exists in a bubble, looking out onto the contamination and chaos of a foreign metropolis.
Until one day Linh is befriended by a local, a talkative chain-smoking widower called Monsieur Bark. They swap gifts: menthol cigarettes for Bark, and a pretty dress for Sang Diu. They begin to meet regularly, drinking together in a café and exchanging constant greetings – the few words that each can communicate to the other. The compassion that grows between the two men seems more threatened by any further verbal comprehension than it is strengthened by it.
The Catalan version of the play, translated by Sergi Belbel, reflects in its own way the confusion of the many European identities, which fluctuate and intertwine as countries adapt to a constant flow of migration and movement. While Claudel's is a sentimental story, a fable that speaks of the most benign of migrants, it is not without punch; approaching some of the continent's tautest themes: nationality, language, and historic guilt, with a delicate touch.
---
La néta del senyor Linh
Teatre Lliure – Montjuic
until 30 December
in Catalan