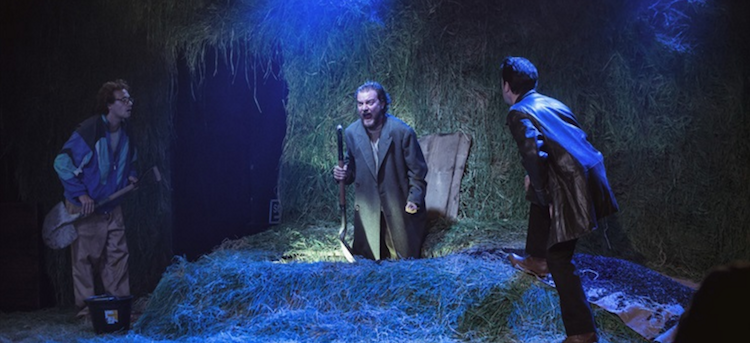 The proposition to exhume the remains of fascist dictator Francisco Franco after nearly half a decade resting in peace in a state-funded mausoleum, puts a grave twist on Martin McDonagh's A Skull in Connemara that makes a return to Barcelona's La Villarroel in an energetic Catalan version directed by Iván Morales.
Set in the district of Connemara in County Galway, a place of desolate beauty where, the tourist board says, one can experience "the real Ireland", this, the second part in a trilogy by the Anglo-Irish playwright dynamites the rural idyll, the family unit and the benign influence of Catholicism with macabre delight.
The story centres on middle-aged villager Mick Dowd (Pól Lopez) whose job it is to make space in an overcrowded cemetery by unearthing, smashing up and dumping its dead elsewhere. Yet amidst rumours on the cause of Dowd's wife's sudden death seven years earlier and the revelation (plot spoiler!) that she is not in the ground where she is supposed to be, what one might discover when digging up the past is thrown resolutely into play.
This gleeful production plays up the comic elements possibly at the expense of the play's dark irony. But perhaps crudity is what's needed in these shifty times, with its myriad of catchy distractions. In a climatic skull-smashing scene, teenager Mairtin (Ferran Vilajosana / Oriol Pla) helps Dowd out; the worrying representative of a psychopathic new generation nurtured by soil left too long unturned.
---
La Calavera de Connemara
until October 28, 2018
La Villarroel – Barcelona
in Catalan