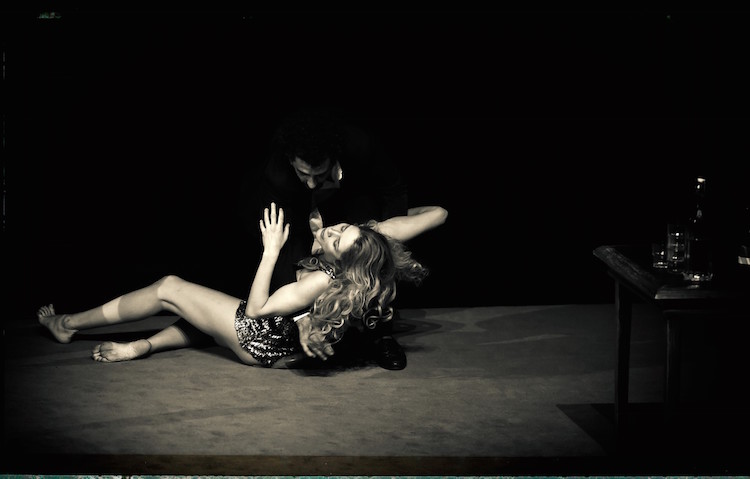 Further proof that we live in the age of hysteria in the guise of meaningful action comes from the Belgian director Jan Lauwers and his theatre troupe Needcompany. Begin the Beguine is the last work of the American filmmaker John Cassavetes, written, but never produced, before he died of cirrhosis of the liver in 1989. The title is taken from a Cole Porter tune that refers to a Caribbean love song.
Little love here: two middle aged men, played by Spanish actors Gonzalo Cunill and Juan Navarro, lock themselves in a beachside chalet and commit themselves to have sex with prostitutes until they die. This is a troubling premise for a modern play, admits Lauwers, who acquired the rights from the Cassavetes estate and first performed it (with other actors) in 2014.
It received some confused reviews. Envisaged for film, two hours without pause, a stage production feels much longer. Lauwers compares it to the film La grande bouffe (1973), in which a group of men resolve to eat themselves to death in the French countryside. Claustrophobia and chaos, beautiful mad women, groping men, meandering conversations about sex, love and angst… Lauwers pays homage to Cassavetes in the piece, drawing on his 1970 film Husbands, (Beguine was meant for the same actors, Peter Falk and Ben Gazzara). Its message? Perhaps that often repeated (yet evasive): 'men act like animals but they can't help themselves.'
The Women
Beguine is updated by the women (director's daughter Romy Louise Lauwers and Inge Van Bruystegem). Or is it? Morphing into different personas, different prostitutes of different ages, shapes and sizes, this astute pair seem less silly and more sardonic than their male counterparts. Yet they're still sex slaves, ordered from a very efficient phone service invisibly manned by 'Jeffrey'. (Soon there will be an app.) Just like Hollywood, the women can shout all they like, but the men still pull the strings.
And what men: old enough to know better but certainly young enough to keep trying, an apparently modern quasi-therapeutic self-awareness and the occasional crying fit doesn't stop them turning to the archetypal 'fun' activities: sex, drugs, etc. There is contemporary resonance too in the voyeurism of the camera (another homage to Cassavetes' original plans) and indirectly, in the curiously isolating relationship with a modern theatre audience, accustomed to interaction.
If an empathy is gained, it is in a shared exhaustion and disappointment; our expectations these days go beyond anything actual eroticism can provide. The actors burst in naked at the beginning: we've seen it all now, so what next? In a previous piece Lauwers examined the arrogance and obsession with identity of Europe. Here he represents a more personal narcissism that combines contradictory impulses: sadism, self-destruction and attention-seeking.
---
Begin the Beguine
Teatre Lliure
Barcelona
January 23 – 25, 2018