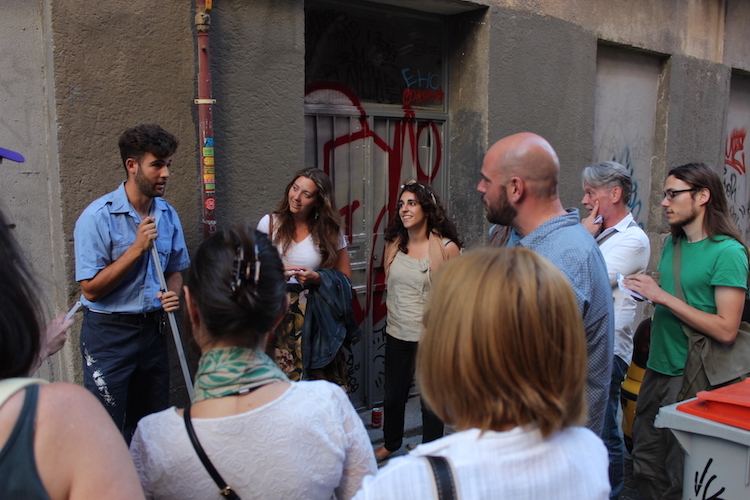 Immersive theatre creates a world in a set space, in which audiences are invited to experience a three-dimensional fiction meticulously created and controlled by invisible puppet masters. Interactive theatre, on the other hand, is rough and ready – the city itself becomes a backdrop and a protagonist in an unfolding drama, and the audience directly participate in the evolution of storylines.
Benjamin Nathan-Serio, a New York actor now based in Madrid, saw in his adoptive city a spectacular setting for this latter type of live experience. In collaboration with Carlo D'Amore, the award-winning founder of the NYC-based company Live In Theater that has been running since 2009, Serio and co-producer Leslie Freschet have taken one of its flagship cases, 'The Lombardi Case', and transported it to this new provocative Spanish context.
Beyond Artifice
The live 2-hour show, offered in English or in Spanish, merges history with fiction in an interactive crime story that recruits audience members to solve a mystery. Heading out onto the streets in teams, they encounter characters, conduct interviews, draw conclusions and make accusations. "This is not your typical piece of theatre," says Serio; its development, that reflected a personal desire to take control of his own career, combines improvisation and acting, entertainment and analysis: "I want to offer audiences an experience that empowers."
Benjamin Nathan-Serio: So it works like this: you go into a space that's not necessarily a theatre. Audiences are relatively limited in number, around 70 is ideal. They're arranged into groups. An authority figure, a police officer comes out and says: "ok recruits, we're in a hard way, budget cuts and all that… but where you lack in experience you excel in numbers, so we're going to send you out onto the streets to find a murderer." They're given pictures, clues, suspects, a map… then they're sent out to find and interview them… More than half of the show depends on the audience, how they interact with the characters, in this case in the street.
We're starting with 'The Lombardi Case' as one of the most successful that has run in the US. It's a conglomeration of a number of murders that took place in New York in the late 1970s. So we took the whole script, its seven characters; the functionality of the show, and adapted it to this context; changing the role of senator in the US, to the American ambassador in Madrid, the name of the junkie from the play-on-words Trixie-Pop to the Spanish 'la Lumi' – this is local lingo, because we've shifted the whole time period by about six years. Our Lombardi case is set in the '80s, in a time known as la Movida Madrileña.
A Tale of Two Cities
La Movida Madrileña refers to the period after the death of Francisco Franco under whose shadow Spain withered until his death in 1975. The 1980s were a celebratory time of unfettered freedoms, where expression and repression, both physical and psychological battled it out in a city that had been left to stagnate. To research the period, Serio himself headed out onto the streets of Madrid.
BNS: Madrid in this period makes an awesome backdrop for an interactive experience. We centre on the barrios of Chueca and Malasaña, where in the 1980s the bands were playing and the parties were. What's interesting is that by changing the time period, New York and Madrid echo in terms of drug culture, sexual freedom and music, yet the extremity of the Spanish swing from oppression to liberty is remarkable. The contradictions and conflicts it implied in terms of religion, gender, sexual toleration, are key to the spirit of la Movida and that's a big part of our production.
I talked to people. I spoke to Alex Graneri, a producer who'd created a stage show based on la Movida that was a massive success. We spoke to the lawyer Jaime Sartorius who played a fundamental role in the Spanish transition in the 1970s. He was one of the 'lawyers of Atocha' who narrowly missed a massacre in 1977 and who later helped negotiated the release of political prisoners in exchange for the asylum of the extended arm of Franco; these were, let's say, controversial times! And, of course, there are still many people who remember the 1980s: the neighbourhoods, the characters, the vibe…
An Act of Listening
The show is a lot of fun, says Serio, but it touches on delicate themes in a country that struggles to confront its past. Universal issues of information or misinformation, 'fake news', and the desire for certainty are wound into an experience that combats the mentality of an age in which it's easy to feel unheard.
BNS: In really good theatre actors listen very carefully to the audience: "are you understanding me, are my lines landing, are we in rapport?" In our case you can actually check: "are you following me? Do you know what I mean?" All our actors are bilingual – one of the potentials in Spain that doesn't exist so prevalently in New York is the ability to have a foreign language experience, be it the Spanish here that want to improve their English, as those with some Spanish who want an authentic Spanish experience.
We're still discovering who our audience are, or can be. The Lombardi Case is suitable for young adults up – but there's potential to widen that. For now, target audiences are companies or groups, as they offer the numbers and those accustomed to pay the €40 charge that we need to keep running and pay everyone involved. There's the element of a tour, discovering the history of Madrid, but also what lies behind it – so there is that potential too to develop original storylines specifically steeped in the history of Madrid and Spain. Most importantly for now, I think, and irrelative of whether you or your team have solved the mystery or not, to have taken part in something that you directly alter the result of – that's empowering. You carry that away with you.