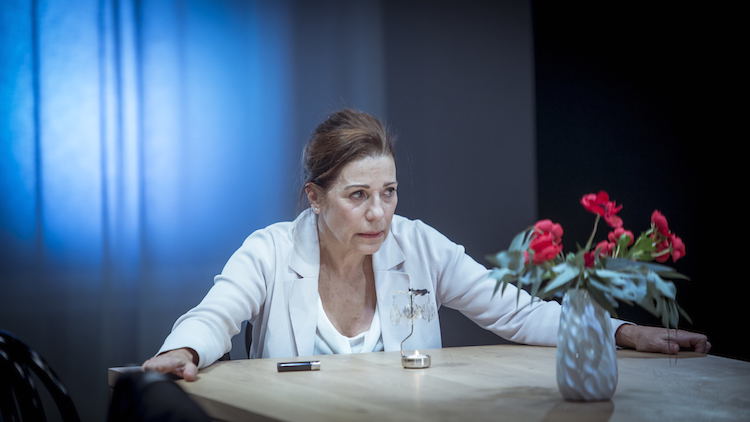 In a 2015 British production of La Mère, a contemporary French play by Florian Zeller, actress Gina McKee appeared 'ghost-like' in the lead (The Guardian). In the Catalan-language production La Mare, a local version of the play directed by Andrés Lima, Emma Vilarasau (pictured above) takes on the complex role of Anne, a mother in her 50s who suffers a personal crisis after her grown-up son leaves home.
Catalonia lends itself well to the play, says Lima: "here, beyond a façade of formality there's the sense of something trapped and wounded…"  A companion piece to Zeller's Molière Award-winning Le Père (The Father, 2012), about an elderly man with Alzheimer's, 2010's La Mère uses a similar technique: scenes repeat as if continually rewriting themselves from a different perspective, "mirroring each other in a kind of schizophrenia," says Lima. Beatriz San Juan's set is shut in by massive windows, beyond which an unsettling blue light exudes redirecting the protagonist to the kitchen table in its centre, with its red potted plant, quirky ornamental candleholder and, as the scenes clutter up claustrophobically, multiple coffee pots.
The atmosphere of menace is enhanced by music that calls on the vocals of Yma Sumac, a 1950's Peruvian singer who produced sounds of the jungle with her voice. Backed by this unsettling soundscape, Anne's mood shifts from near hysteria to subdued, repressed. "This is a woman in an extreme state that you could call many things: a breakdown, a depression, a melancholic state, a middle-age crisis… it defies archetype." On the contrary, says Lima, psychological labels with their tendency to distance and diminish trauma are denied us and instead switches in tone and the dynamic between characters create  disorientation, casting doubt on what's real and what she imagines.
The Mother's centrality in the play is not to undermine the crucial role of the other characters, parts that seem flat yet enact subtle changes that have seismic effects. Her husband Pierre (Pep Pla) is patronising in the first scene, downright threatening in its repetition, standing over her at table and slowly rolling up his sleeves. Their son Nicolas (Oscar Castellví) is petulant or playful, taking his cues from his father. His girlfriend Élodie (Ester Cort) is strikingly tall and over confident, she seems to mock the mother with her flaunted power over Nicolas and her free-spirited independence.
It's a poignant production to set in a context where the tight-knit Catholic concept of the family group is rapidly withering, yet there's a universality to 'La Mare' that goes beyond setting and gender, says Lima: "We've all been through times in which anxiety overcomes us, when we lose touch with what the point of it all is." Anne asks this question of her chosen life of motherhood in the play, and its implications are both obscure and profound.
---
La Mare
La Villarroel theatre – Barcelona
Until April 2nd
The play is in Catalan
Photo © David Ruano