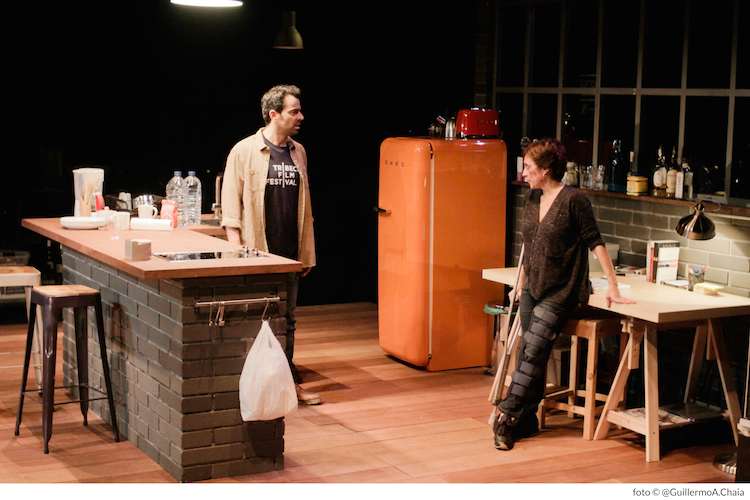 Precisely timed to chime with World Press Photo, La Treva (Time Stands Still) is a Catalan-language version of Pulitzer Prize-winning American playwright Donald Margulies' stage drama, in which two veteran journalists try to make peace with their homebody selves when trauma forces them to return to Brooklyn from the war in Iraq.
Sarah (Clara Segura) is an established war photographer whose near-death experience lights up her work profile. James (David Selvas) is her partner in work and in life, a feature writer who had returned from Iraq just months earlier having suffered a nervous breakdown.
Questions of Context
"Big global issues and the little compromises of our daily lives interact in the play," says director Julio Manrique. The complex relationship of a couple better used to engaging in a war zone and who are placed in what for them are unusual 'peacetime' circumstances, gives rise to wider ethical themes; interrogating the sense, truth and media treatment of troubling images, as well as questioning the motivations of those that produce them for our consumption.
La Treva, 'the ceasefire', is a compromised title, says Cristina Genebat who translated the play, "we chose it as in Catalan there is no succinct alternative to Margulies' title." 'Time stands still' refers to the moment when, as the character Sarah describes, often-paradoxical real elements come together to form an image. Yet the Catalan title brings its own resonance to the play in its emphasis on transience, concession – if not resolution. As Manrique points out: "the play is about individual choice." And each decision, like a photograph, requires acceptance of circumstance and an instant of opportunism.
The Brooklyn War
The action unfolds in Sarah and James' Brooklyn apartment, that stretches across the theatre dividing the audience. The long set suggests transition, as well as giving scope for different dynamics between the pair. Home feels for Sarah like a state of suspension, vertiginous in its lack of structure. For James, however, her return is liberating, an opportunity to recover an intimacy between them free from deadly distractions. Yet it is also a means to alleviate his guilt of having 'bailed out' of Iraq early. Into this space wanders their long-time editor friend Richard (Ramon Madaula) and his much-younger girlfriend Mandy (Mima Riera) with a couple of balloons. This strange intrusion provides its own distraction yet serves to crack a fragile façade…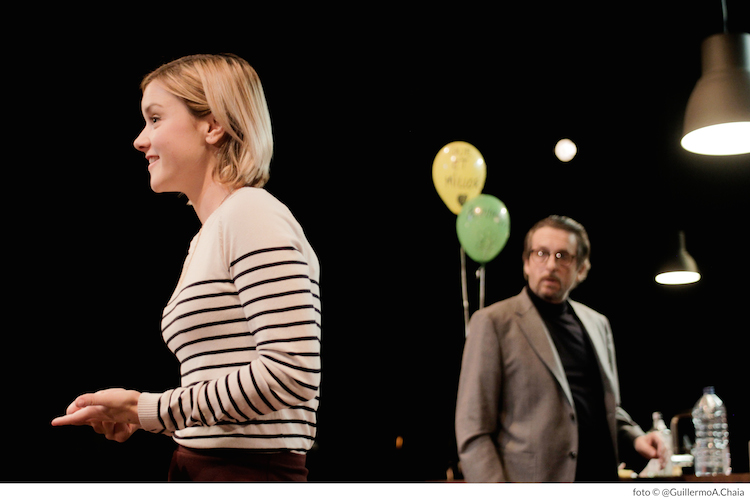 There's a lot of humour in the production, surprising given the seriousness of the themes: "It's a Woody Allen-ish play," affirms the director, and Margulies' rapid dialogue is well served by the chemistry of the Catalan cast. Self-aware characters are candid yet cordial, even when in conflict, and there are echoes as well as contrasts between them. Sarah is both cold and charismatic, and her sense of conviction sets her not too far apart from Mandy, the chattering yet competent event planner. 'I'm an event planner too!' Sarah tells her: 'wars, genocides…' yet her tone isn't malicious so much as honest, Mandy is no ditz, as Sarah understands: both see the beauty in her images of war. Richard is played with slight smugness as a man happy for others to do the drama, yet the relationship with his girlfriend is not what it seems and there are brilliant moments when he flails in tiny panic as if suddenly sensing his loss of control.
Choice and Chance
The most acclaimed images of contemporary photojournalism are rarely gratuitous but evoke some wider narrative and/or enigmatic truth. While in a photo 'time stands still', the way we receive it is in continual negotiation with the fluctuations of our own personal dramas. In La Treva a simple truth seems to win out – James is unable to go back and Sarah is unable to stay – yet the grounds for this truth is always shifting. "It's a play where the positive or negative nature of the ending is left open to interpretation," says Manrique. Though the energy and vitality of this production is life-affirming.
---
La Treva (Time Stands Still) by Donald Margulies, dir. Julio Manrique
Teatre Villarroel – Barcelona
in Catalan
until 15 January, 2017
#LaTreva
World Press Photo
CCCB – Barcelona
10 November – 11 December, 2016