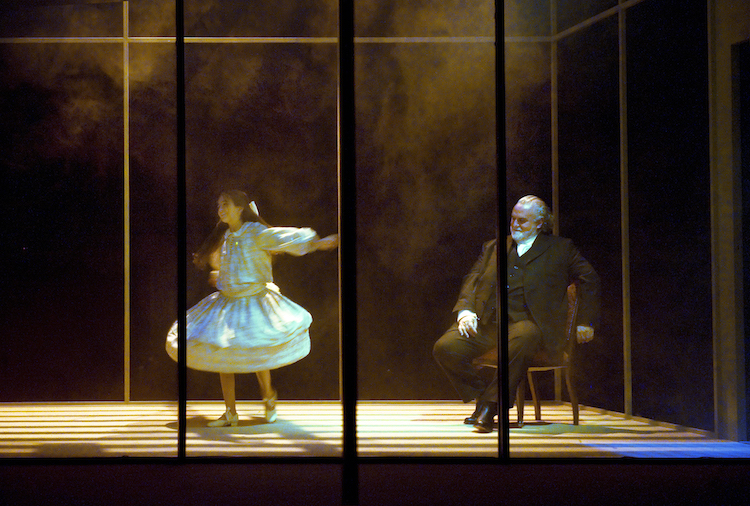 Sci-fi thriller The Nether (L'inframón), by American playwright Jennifer Haley, is back at Teatre Lliure in Gràcia this autumn after a spell at the Grec Festival in July. The contemporary play, brought to the Catalan stage under the direction of Juan Carlos Martel Bayod, deals with portentous, worrying themes; questioning the sanctity of the virtual realm as a 'safe space' where one can explore dark desires without consequence or repercussions.
The play slips back and forth between real and virtual worlds, says the director. Yet in Haley's imagined future, "the real world has been reduced to a barren wasteland while the virtual 'Nether' is visually and sensually sophisticated, far more so than technology allows for now". In the Nether, businessman Sims has created 'the Hideaway', an online brothel on a Victorian theme, with all its tantalising clichés of puritanism and gothic horror. Its users are real-life paedophiles that adopt the avatar of paying clients or of paid child prostitutes.
No Man's Earth
Haley's play, that won the Susan Smith Blackburn Prize in 2012, is structured like a classic mystery novel with flashbacks and lapses in time. Revelations are drip fed to the audience as the story creeps towards a determined conclusion. On other dimensions, however, it is bang up to date, opening a Pandora's box of prescient ethical issues.
In this atmospheric production, the two worlds are staged in parallel as suspended box spaces: the real, an aseptic interrogation room, meets the virtual: an affluent 19th century residence surrounded by a fertile garden. "We use audio-visuals to show the transition from one world to the other," says the director, "yet while our worlds are clearly differentiated, they are part of the same space: we wanted to suggest symmetry." This juxtaposition of real and virtual worlds reveals internal paradoxes that invite comparisons: a man-made reality reduced to a no man's land vs. an imaginary pre-tech world, where 'freedom' is promised in an environment strictly controlled by its maker.
The Madame
Sims, played with understated ruthlessness by Andreu Benito, is the only one who exists in both worlds in the same form. A self-acknowledged paedophile, Sims argues that the Hideaway, in which he adopts the name 'Papa', is cathartic and even medicinal.
Morris (Mar Ulldemolins) is the slight real-world police detective who attempts to take Sims on; but, says Ulldemolins, the odds are stacked against her. "As no laws govern this virtual realm, all she can do is locate the server and shut down the site". More potent than the physical dominance of Sims himself, Morris is also up against the overpowering seduction of the virtual world that he has imagined: "a place where you can experience natural beauty and sensations that are no longer possible in the real world".
The user Doyle (Victor Pi) has become victim to the virtual allure. An award-winning scientist with a family, he has been sucked dry by his 'habit'. He now wants to 'cross over', that is, reduce his body to a vegetable state in real life, while his mind roams permanently, virtually free.
Business as Usual
While avatars liberate their users from physical restrictions, including those of gender and age, the balance of power in the virtual and real world remain essentially the same… "Sims is a billionaire", says Joan Carreras, who plays the undercover agent-avatar Woodnut in the play. "In real life, Sims has a garden with a poplar sapling in it, this when 'trees' are spoken of as something almost mythical. In crossing over, you sell yourself off: your data, your possessions, your physical body, to a company that manages your virtual life." It all sounds ominously credible.
The most startling appearance in the play is that of Iris, played (on different nights) by 9-year-old actress Gala Marqués or Carla Schilt.
There is, of course, something unbelievably uncanny about a child who is not only complicit in her own abuse but who argues for it using adult rhetoric… This may give us a clue as to why a virtual act always falls short of the actual experience: that uncontrolled consequence, in all its definitive horror, may be the only real means of feeling absolutely free.
---
L'inframón (The Nether) by Jennifer Haley
Directed by Juan Carlos Martel Bayod
Teatre Lliure – Gràcia
September 23 – October 16
The play is in Catalan
Photo: ©Ros Ribas