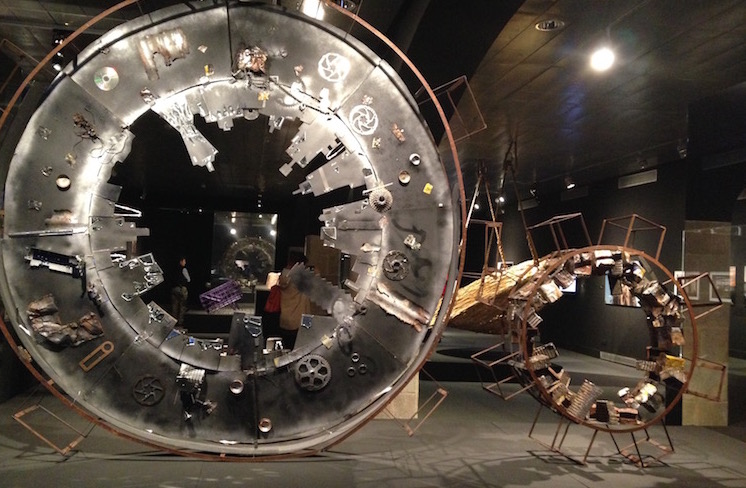 Making Africa: A Continent of Contemporary Design, an exhibition currently at Barcelona's CCCB, is the vibrant, visual manifestation of an extensive, on-going research project that brings together the work of 120 artists and designers from all over the continent. Curated by Amelie Klein of the Vitra Design Museum in Germany, the show was put together under the critical eye of a circumspect board of experts led by the renowned Nigerian art specialist Okwui Enwezor.
The exhibition is a creative celebration of all things that 'design' can be, from art to architecture, photography to fashion, yet through these mixed mediums and materials it also continuously pokes at persistent prejudices about the continent. "We have to remember that 'Africa' is a colonial construct", says Klein, who spent two years travelling extensively throughout the continent, speaking to academics, social commentators, filmmakers, artists and designers. (Their views are brought together on the website: www.makingafrica.net). The people of Africa name themselves in local terms, suggesting a fragmentary picture of 'identity' defined by smaller geographical and environmental contexts.
Africa has never been isolated the way we might imagine, and a major thrust of the show is to pop certain notions that deem to exclude it from the contemporary world: "concepts like 'artisanal', 'recycling', 'impoverished'… (are) based on ideas of deficit," points out Enwezor. The works on show reveal this in their reference to local and global concerns.
[youtube https://www.youtube.com/watch?v=khNz6rWTSOU&w=560&h=150]
We have always liked to control Africa, whether through imported, often unsuitable, western models, or as a dumping ground for obsolete 'goods', including highly polluting vehicles. We are also guilty of patronising the people through what Sam Hopkins of the project SLUM TV calls the "NGO aesthetic": a painful 'missionary' image of an Africa in need. "Not that Africa is not impoverished in places", says Klein, "or that these charities do not offer help … but we must be aware that NGOs themselves are a business." In fact, she says, the idea of a helpless Africa is neither constructive nor real; on the contrary, the high-paced social, economic and technological change sweeping the continent has set it far ahead of the West in particular aspects and areas. Rapid WiFi and mobile communications have leapt the need to place landlines, and the innovative and productive use of technology, such as 3D printing, is being used to avoid importing spare parts.
This contemporary 'Africas' does not 'feed' on the world but interacts with and contributes to it, which brings up an intriguing standpoint on what we can learn from Africa. As Rosa Ferré, head curator of the CCCB, points out: "we could learn to think locally, think specifically"; use design in all its marvellous manifestations as a critical and self-critical tool, to represent and reflect on how to improve our own societies.
A Selection of Works
The artist Anton Kannemeyer makes a blunt point with caricatures that accost the 'NGO mentality', a relationship built on assumed Western superiority.
David Adjaye, like fellow architect Lesley Lokko, takes on the lack of research and sweeping generalisations that saw incongruous modernist buildings imported into terrains and climates that they could not withstand. Urban Africa Project compiles photos taken in 53 African cities that spotlight the atrocities and the marvels of urban settings, revealing possibilities for site-specific, eco-smart buildings built of practical materials – such as mud.
Another concept put to bed is the idea of 'authentic' Africa when it has been globalised for centuries. The Dutch origins and Indonesian design of what we think of as 'African fabric' is still imported, and still in fashion. This complex patterned history is also evident in Yinka Shonebare's Cha Cha Cha shoes, covered in Dutch wax fabric and dedicated to an imported dance form, the cha-cha paradoxically came to symbolise African independence.
The complex relationship between want and need in relation to the Western model of mass production and advertising is represented in Kader Attia's dazzling skyline of refrigerators, that, he says, "overplay the American dream".
A provocative twist on perception is Tahir Karmali, Dennis Muraguri and Tonney Mugo's take on the 'informal economy': Jua Kali City (featured image), which suggests a contributory relationship between official and unofficial trade areas in Kenya.
An excellent addition to the show in Barcelona is Mikhael Subotzky and Patrick Waterhouse's 12 Projections from Windows, a series of photographs in light boxes taken from the windows of the Ponte City building in Cape Town. This former residence of the white rich in the apartheid era was later abandoned and 'squatted' by poor families – who still, of course, pay rent.
————————-
Making Africa: A Continent of Contemporary Design
Centre de Cultura Contemporània de Barcelona
Until August 28th, 2016
A version of this article was first published in Time Out Barcelona – March ed. 2016