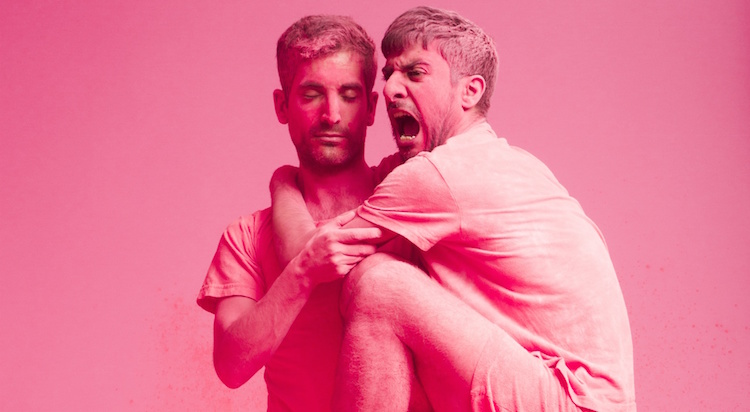 A Room For All Our Tomorrows – a new dance piece by Igor Urzelai and Moreno Solinas – is a witty, hyper-caffeinated exploration of one-on-one relationships! Set to be performed at DanceEast in Ipswich this Friday April 15th, the piece is a welcome follow up to the Basque – Sardinian duo's acclaimed debut, Idiot-Syncrasy (2013), that was nominated for the UK's National Dance Awards in 2015. The dancers trained together at London's The Place, met with early success with the 6-piece dance collective BLOOM! (2010-2013), before forming their own company three years ago. Now they spend much of their time travelling, particularly between the UK and Italy. It was there, between rehearsals, that I caught up with Igor via Facetime, and together we compared and contrasted their repertoire.
What's in A Room?
"We're here in Italy rehearsing A Room while we're travelling around performing other pieces and developing a new piece!" says Igor, struggling to get his words out through choppy Wi-Fi. Multitasking and continual travel is a fact of life for the dancers, who hop from country to country, residency to residency, show to show. Funded to create works and tour them in Britain, they need to sustain themselves for the 50% of activities abroad.
In Idiot-Syncrasy and A Room, the choreographer explains, "we go for a basic use of voice and action to evoke a kind of catharsis", but while the former explores the dynamics between groups of people, "the humanity behind habits", the latter takes a precision gaze on our personal relationships: "We all think we're unique as individuals but we find ourselves in similar interactions with one another," says Igor.
Where are we now?

Each piece brings the past in tune with the present. In Idiot-Syncrasy, folk music and dancing from their homelands of Sardinia (Moreno) and the Spanish-Basque country (Igor) are fed into the piece, which starts with a Sardinian resistance song from the 18th century: 'Procurade e moderare', its repeated rhythm triggers a simple beat that balloons into a bouncing momentum. The message is one of persistence, survival as a contagious, almost-involuntary action. The intimate A Room takes place in a familiar, universal setting: "The room could be in an office or home as it is abstracted down to its bare essentials", that is: "the two of us, a table, two stools and a coffee machine…"
Hardly a haven: "in this room there is a lot of screaming and movement in repetition to evoke that sense of being trapped." Igor explains, "We want our audience to see their own relationships mirrored here, and to break down that idea of one grand progressive history, into lots of individualised mini-histories that go forwards and backwards in little leaps and loops."
Flexible times
The funny, bittersweet choreographies of Igor and Moreno are compositions of the theatrical and the anti-theatrical, the serious and the absurd. In time with the times, they must negotiate this relationship with the specifications of each space that the piece appears in, says Igor, be it a small, stuffy box space, an airy art gallery, or a classical Italian theatre. Earlier this month, they took a BLOOM! piece, Tame Game (2011), into the Teatro Sant'Andrea in Pisa, a deconsecrated church with the religious trimmings still intact. "The piece deals with censorship, but in this context the games referred to became specifically religious ones. In the end, we have let go of a degree of responsibility," admits Igor, "and trust the person who has invited the work into that space."
The experience of the spectator is another factor that is slithering out of their control. Live streamed into any number of anonymous rooms, A Room for all our Tomorrows throws itself open to a new age of audiences.
—————————
A Room For All Our Tomorrows – UK Calendar
17.03.2016 @ British Dance Edition/Wales Millennium Centre Cardiff (UK)
15.04.2016 @ DanceEast, Jerwood Dancehouse, Ipswich (UK)
Idiot-Syncrasy – UK Calendar
6.05.2016 @ RISE festival/Bodysurf Scotland, Findhorn (UK)
14-15.05.2016 @ Mayfest, Bristol (UK)