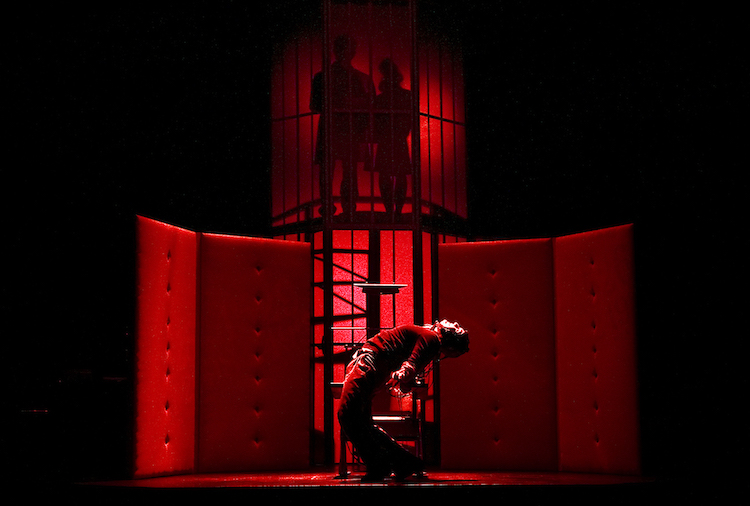 Mario Gas, one of Spain's best-known directors and Eduardo Mendoza, one of the country's best-known authors, bring their brains together for this pop-up theatre production of Harold Pinter's lesser-known black comedy The Hothouse (Invernadero), at Barcelona's Teatre Lliure until February 21st, 2016.  This comic, tragic, macabre play is set in a government-approved institution where countless 'residents' are numbered rather than named. Why they are there, what exactly is happening to them there, and whether they will ever 'get better' remains a mystery … Mario Gas introduces the play:
MG: The Hothouse is set in a kind of rest home apparently beneficial to humanity and with close ties to the government. But beyond the façade of high ideals, is an authentic nightmare: there are lies, threats, mental and physical torture … Were this the activity of a real-life convalescent home, its residents would either never come out of there alive, or emerge completely off their rockers.
The play has a curious history, as the director explained:
MG: Pinter wrote it in 1958 but then popped it in a drawer and forgot about until 20 years on. In 1979, he revisited the work, made a couple of changes and staged it Off West End in London. It's not a juvenile Pinter, exactly; it has that caustic edge of his later plays – but it's different in the sense that… Part of the whole nature of theatre is that there's this paradox in its language, that a line so brief, so economical, can speak volumes. But this work has a spontaneity to it, a sort-of 'slapstick' humour that runs itself into the most splendid horror…
This 'horror' seemed to creep up on the world while the play was in the drawer. A 2013 London production directed by Jamie Lloyd and starring Simon Russell Beale was enthusiastically reviewed, with Guardian critic Michael Billington not the only one to remark on "how eerily prophetic it is in its vision of a world where psychiatric hospitals are used as a means of curing social dissidents." Yet while that production leaned to the comic, this Spanish version sides with the sinister. Mario Gas says:
MG: It's a black comedy but with a seriously serious side. It interrogates the political and ideological paradox that exists in the world. It's a work that could have been written in the 1980s, 1990s, even 2000s as it's completely contemporary. The secretiveness of states, both autocratic and democratic states, the use of euphemisms, destruction under the guise of 'covert activities' … I think Pinter was not only very much in tune with his times but also aware of the direction in which the world was heading.
The Hothouse is staffed by absurd yet deeply threatening personages, "characters that seem nice at first but that end up doing the most terrible things", says Gas. Names (in English) match characters: the director, Roote (Gonzalo de Castro) is the 'tragic hero' of the piece, but there are echoes of his decline in the sacrifice of poor Lamb (Carlos Martos). Miss Cutts (Isabelle Stoffel) is outrageously trivial, yet in her desperation for self-gratification nor is she exactly far fetched as a character. Of the real nasty pieces: Lush (Jorge Usón) is enthusiastically malicious, and there is something a bit John Le Carré about the cool, cretinous Gibbs (Tristán Ulloa) – the uncrushable cockroach among them.
Of The Caretaker, Pinter said that "it was funny only up to a point" (Guardian) and is on this point on which Invernadero swivels, between comedy and tragedy, but between absurdity / realism and the culpability / complicity of its characters. Mario Gas:
MG: For that reason, we were in no better hands than those of Eduardo Mendoza. The translation is fantastic, absolutely faithful to Pinter yet reconstructed in the Spanish language in a way that maintains its integrity.
Yet Mendoza admits that doing the job of translating was a balancing act in itself:
EM: The real challenge was to be as transparent as possible, to preserve the text without any interpretation or explanation of it. That meant to be as clear or as ambiguous as Pinter was! And as it is theatre, I had to, of course, leave the actors space to do their jobs…
The actors too were vigilant when it came to Pinter's requirements, says Gas, lest they get a letter from beyond the grave. Pinter, it seems, was a bit of a control freak:
MG: For Pinter, punctuation is as important as language: he placed great emphasis on its effects, and on the time allocated to each of those famous pauses, whether it was a short or a longer pause – or one after the other. He was really vigilant over performances of his plays, too. He apparently used to write in to productions, questioning why pauses were not of the kind stipulated in his text! We have tried to remain faithful to what Pinter wanted to do with The Hothouse, and rehearsed it very much aware of this command of punctuation and sense of time. With many translated works you often change a phrase or two in the script. Not with this one.
————————-
#Invernadero – The Hothouse by Harold Pinter, directed by Mario Gas, translated by Eduardo Mendoza
Teatre Lliure – Barcelona until February 21st
The play is in Spanish
Photos: © Ros Ribas