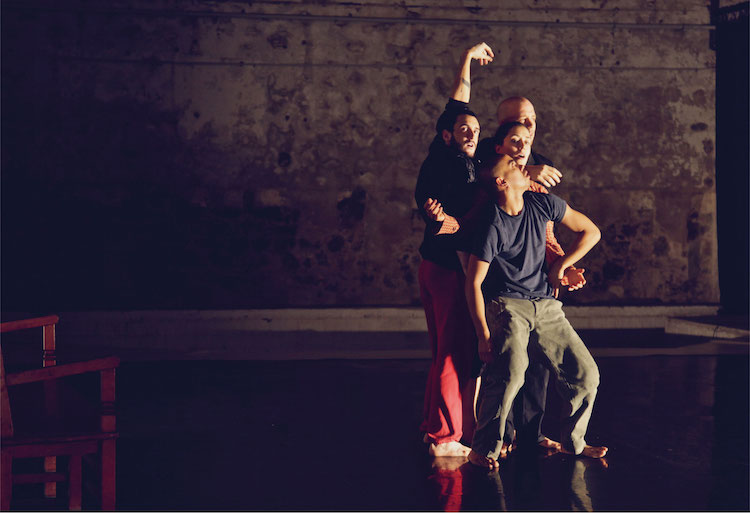 Lali Ayguadé, the acclaimed Barcelona-born dancer-turned-choreographer, brings her first full-length dance production Kokoro to Leicester's Curve Theatre this Tuesday, January 26th. The piece offers a variation on a theme explored by Sidi Larbi Cherkaoui in Fractus: how, in a world divided into societies built for individuals, can we confront the pressing need to adapt, to transform ourselves and the world around us in the common good? Kokoro was performed at dance space Mercat de les Flors in Barcelona last week, where the choreographer introduced the piece:
Lali Ayguadé: Kokoro is a Japanese word that means 'spirit', but if you ask a Japanese person it's really a collision between the words for 'heart' and 'thought'. I liked its fluidity of meaning, the way it provokes curiosity, and also the way word sounds.
The piece begins in a church-like setting where a spark of curiosity in each dancer triggers a personal journey. Each has different facets and moves through different phases to explore his or her issues, such as gender, yet characters are transformed through relationships with the other and in interaction with the world around them.
Ayguadé spent ten years in Britain where she was a member of Akram Khan Dance Company in London. In 2010, she was nominated as 'Exceptional dancer' in the city's Critics awards. She works the Barcelona-Britain connection and the multicultural realities of each place in her piece.
LA: I use four dancers with very different backgrounds, but most of whom I'd met previously through workshops. Sergí Parés Agea comes from the world of circus, he's an acrobat but also an excellent dancer. Diego Sinniger de Salas trained in hip-hop, while Anna Calsina Forrellad brings a real theatricality to dance; she has the remarkable ability to transform herself physically into characters as you watch! Nicolas Coutsier (who replaces Nicolas Ricchini, pictured top, called away to play one of the leads in Akram Khan's Chotto Desh) is Belgian, but faithful to his Congolese origins.
The theme of 'open relationships' is also evident in the choice of production team, one itself built on discipline, friendship and the exchange of ideas. 
LA: It's been three months since the premiere (in Girona's Temporada Alta festival) and that gave us a bit of breathing space to develop scenography and music. Our playwright, Jordi Oriol Canal, stepped in towards the end, really helping out with editing and clarification of narrative. His background is in theatre and he brings a unique perspective to dance. The composer Josep Baldomà has created a cinematic soundtrack which transforms as it accompanies different scenes of the work. Fabiana Piccioli, who worked for many years at the Akram Khan Dance Company, does our set design and lighting. I got outside help, too: Hofesh Shechter aided with the creative process, bringing a different perspective to the piece.
In the dance world, there is pressure to offer strident social or political critique, with the danger of pieces swerving into the abstract or didactic. In Kokoro, Ayguadé attempts a more meditative approach: an urge to transform is expressed as an interaction between internal and external forces, as characters move and are moved by Xesca Salvà's minimalist set.

LA: Our creative starting point was movement, which then integrates with other elements. The dancers are accomplished and can be 'spectacular' in each of their disciplines, but, as I like that contrast between forceful and fragile, I went for smaller, accentuated movements, that suggest a more natural form of change. Movement is more emotional in this sense and transformation is slower yet more profound. The way in which Anna, for example, can transform herself with a subtle look that gradually changes her completely into a monster! suggests a more realistic on-going transformation that begins in emotion and is manifested in the physical.
While she is necessarily demanding as a choreographer, Ayguadé retains a lightness of touch, she says, providing dancers with the breathing space to be playful.
I prefer to choreograph from the outside rather than dancing myself. Emotionally its different, and you deal better with structural and practical aspects such as entrances and exits, and are better able to fixate on details. Also each dancer and each member of the team needs attention and I was able to give that. While I had clear ideas, I gave dancers a certain freedom; from a good yet relaxed working atmosphere, little quirks can arise that can be incorporated into the piece: the piece does have funny parts that arose naturally from the creative process.
While Kokoro has been a means to develop her choreographic style, it has also helped Ayguadé take a perspective on her own career. 
LA: It came to a point when I needed to break free from big dance companies, to try things out, to find my own voice as a choreographer, to find a point of contact with audiences. I discovered that change happens naturally, though. You never really know what to do next… then, bit-by-bit, things turn up and you find yourself already transformed, transforming…
———————
Kokoro is at Curve Theatre Leicester
26th January 2016, 7.45pm
Thank you Mercat de les Flors / Lali Ayguadé & company.
The above text is a translation, Catalan – English, of a press conference given in Barcelona's Mercat de les Flors on 21st January.