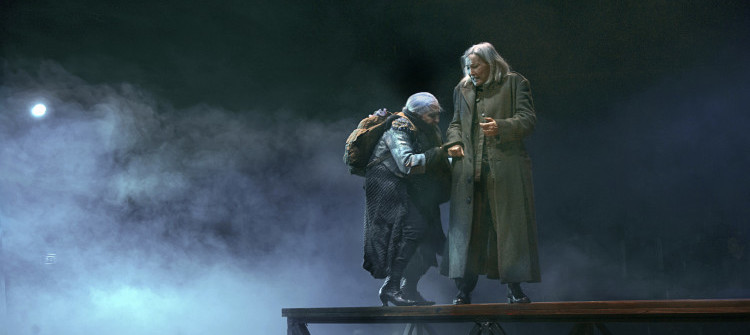 Almost all hope of gender intrigue dissolved in the outdated absurdity and odd 'masculinity' of this Catalan-language version of a female King Lear (Rei Lear)! This not very Christmassy Shakespearean tragedy, about an old king flattered and then betrayed by his daughters, is glum enough as it is – but this was indeed a most disheartening production!
Under the direction of Lluís Pasqual, Núria Espert – at an extraordinary 80 years old – does do a nice job of playing the king. Slight, strutting and sneakily sinister, she's like a cross between Jon Voight and Pinochet; yet as she begins to go bonkers, huddled in a shawl, hair unkempt, she starts to look disturbingly just like a granny. Her fool (Teresa Lozano) is positively archetype with her musical performance of maleness. Gratuitously lewd, full of vulgar gestures and odd little songs, one of which is a short retro-style rap … what point about gender is being made here!?
The audience were seated on two sides under long identical screens showing imposing images of a desolate sky. Trapped between massive make-up mirrors at either end of the room, that effectively reflected us all back in there, one felt compelled to watch as the characters wandered, raved, or rode up and down on the moving floor space between. The foreboding drone of recorded organ music and murmurings of monkish chanting pressed the point home… but what point was it?
The actors (big names: Jordi Bosch, Ramon Madaula, Julio Manrique…) wore a dusty mix of modern and 1940s clothing. They carried weaponry: swords, guns, wild flaming torches, that seemed randomly rooted out of Pandora's prop box. And those heart-stopping lines of the play? 'O, reason not the need!' (Act 2, Scene 4); 'rage! blow! You cataracts and hurricanoes' (Act 2, Scene 2); 'Out, vile jelly!' (Act 3, Scene 7), were diluted in the rest of the dialogue. Instead, as if to shock us into awakening, the deafening crack of the rifles (twice) or hysterical acts of bloody violence (countless times) overcooked the pudding.
O! But then, then there was Edmund! Like an adrenaline shot of the new, the actor David Selvas burst onto the scene as a deliciously malicious Shakespearean psycho. Interrogating gender for the 21st century with a squirmy, slightly camp performance (that was also intriguingly sexy), suddenly it didn't matter about language, didn't matter that he was the baddie who betrays his own dad… Ed had us in seconds. And for the first time in Shakespeare, dishonour trumped death!
———————
Rei Lear / King Lear
Teatre Lliure until 31st January 2016