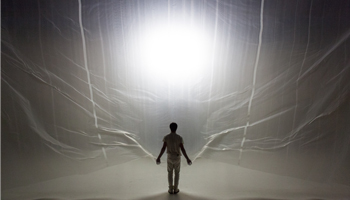 In its fourth edition performing arts festival Sâlmon (November 26 to December 5) stamps its identity on the international festival circuit as both socially relevant and visually innovative. From a showcase for dancers in a European framework, the festival has graduated into a manifestation of new collaborative work by unconventional Latin American, southern European and local creators. Co-organised by the dance space Mercat de les Flors (the main venue) and the 'centre of creation' El Graner, Sâlmon includes around 20 shows scattered over two weekends and priced between €6 and €12 (with some free of charge).
The aim? To bring dance professionals into the city while also reaching out to Barcelona's many publics. 'We've chosen projects by hugely diverse a personal means of expression,' says festival coordinator Elena Carmona. 'Most performances are the result of intense dialogue with creators, with the festival imagined as a tipping point – that moment when concept and materials are transformed into a show.' Yet this is not an ending for the piece, she stresses – each performance is posed as an open-ended intrigue in which the public play a vital interpretative role.
Of the few works showing pre-premiere, one launches the festival on November 26. Italian choreographer Ambra Senatore uses the narrative techniques of cinema in the brilliant A Posto (2011), a precise, humorous and engaging piece in which dance sequences connect fragmented everyday actions. On November 27, the truths and cultures are explored in a work by Mexican and Catalan collaborators Olga Gutiérrez and Raquel Tomàs (at El Graner). 'Politics impact upon creation,' says Carmona, 'and this is evident in many works.'
Over the first weekend, the relationship between individual and society is explored in different ways: in Roser Lopez Espinoza's rather meandering Novembre, and, to better effect, in Uruguayan creator Tamara Cubas's surprisingly savage Multitud, which uses the splendid Sala Oval of the MNAC museum as a performance space (both on Nov 28): originally created for a Montevideo (Uruguay) setting, the piece has been 'normalised' with the recruitment of 100 extremely keen local volunteers. 'This was one of three pieces envisaged for a more public context,' says Carmona, 'We want our public to participate.'
Other MNAC-based shows are two versions of a piece by Sònia Gómez entitled Bailarínas (Nov 28 and 29): departing from the minimalist piece that Gómez created, musician Javier Cuevas and choreographer Amalia Fernández produce 'recycled' works that play on Gómez's design. Meanwhile, back at the Mercat, Igor & Moreno's quite extraordinary Idiot-Syncrasy thumps its way through an hour of mesmeric – gruelling – catharsis (Nov 28).
One of the most difficult things to portray in performance is simple experience, and some pieces get to grips with just this. Bea Fernández works with two different bodies to reflect on the physical elements of dance (Dec 3), while Chilean-Dutch creator Rodrigo Sobarzo combines choreography and theatre in the intriguing Apnea (pictured top of page), an immersive, sensorial piece akin to an audio-visual art installation, that evokes the sublime in natural landscapes (Dec 3). Our relationship with 'the primitive' is a concern for Uruguayan Ayara Hernández (Dec 4, El Graner) – her wild and witty Retrato de un monstruo one of the surprise hits of the festival. And Sâlmon casts a line out to new Barcelona scenic arts space Sala Hiroshima for Antiwords, a piece by Czech physical theatre troupe Spitfire.
Journeys physical, historical, philosophical reflect the interests of Sâlmon Festival as a whole. Colectivo N-340 draws the public into the creative process with a work based on their 1,248km trek from Cádiz to Barcelona, along the old coastal route travelled by Andalusian immigrants (Dec 4). Interaction, too, is pursued by Sra. Poloroyska in Lur Away, in which the audience is presented with a series of dilemmas, inviting you to participate in the development of a work (Dec 5).
Philosophical subject matter is pursued in El Conde de Torrefiel's La posibilidad que desaparece frente al paisaje, yet here clever individual images fail to combine into anything really coherent or profound (Dec 5). The physical city and its associations are an inspiration for Barbara Pinto, whose photos show her lying next to street dogs in Santiago de Chile as an expression of 'horizontality' in the vertical city context. Her images are displayed in Mercat de les Flors throughout the festival. Some artists hit the streets of Barcelona. Quim Bigas seeks a direct encounter with his public in Plaça Espanya, before taking them to El Graner where he presents small-format pieces reconstructed from previously developed work (Dec 5). The architect and choreographer Carme Torrent and visual artist Iñaki Álvarez pair up for Air-condition. Theirs is a series of interventions drawing on anthropological, philosophical and architectural perspectives – they include a plant shop in the Mercat's foyer, a taxi trip around the city to explore its different 'airs', and a chain of straws running down Montjuïc, transporting one air into another (daily events throughout the festival).
While most pieces emerge from slow-burning research projects, a five-strong multidisciplinary team led by Jorge Dutor and Guillem Mont de Palol seeks spontaneity – and a considerable degree of goodwill from other creators – in Holaquehace (Dec 4). They propose producing 'an immediate response' to a work seen the day before, in any one format, from radio to cinema to performance. Socialising is essential in any festival, and Sâlmon is framed by two free parties featuring sees Les Sueques featuring Raquel Tomàs play post-punk indie pop (Nov 28, 10.30pm), while the close is heralded by a session from dancer- choreographer Velarde and audiovisual artist Corral (Dec 5,11pm).
—————-
Sâlmon Festival – Mercat de les Flors // El Graner // MNAC
November 26th – December 5th
This article was first published in November edition of Time Out Barcelona.
Click here to download the entire guide.