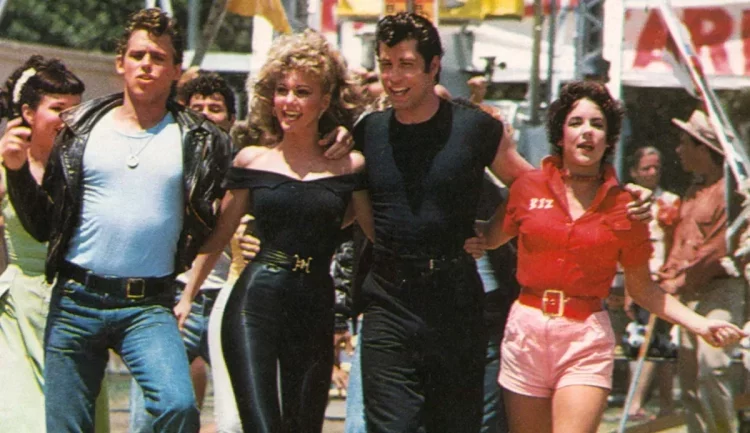 Be it 'musical theatre' or 'theatre with music', big or small format, in Spanish or Catalan, for children or adults, with live music or without… the all-singing, all-dancing Barcelona musical is woven into the fabric of the flamboyant Catalan capital. This 22/23 season expect cinematic successes such as Grease (in its 50th anniversary) plus Catalan originals such as Pares Normals, a musical created by Catalan super group Els Amics de les Arts.
The big theatres for musicals are the city centre's Teatre Tivoli and Teatre Poliorama, with Teatre Condal and Teatre Apolo plus others in the Paral·lel area also focal points. Schedules are flexible and it's worth keeping an eye on alternative spaces, too: Golem'S (formerly Almeria Teatre) in Gràcia and IDEAL in Poblenou, where the Grec Festival's experimental English-language production Next to Normal was quite the hit. Oh, and if you're wondering about subtitles in English – it's no go, sadly – but while there's music and dance, believe me, you can follow.
Matilda in Madrid
If you are in Madrid this autumn (highly recommended) don't miss the phenomenal MATILDA El Musical from this 18 September to the end of November at the Nuevo Teatro Alcalá. Based on the children's book by Roald Dahl, this Spanish adaptation of the multiple award-winning Royal Shakespeare Company show is a likely sell-out – for big kids and small. Get your tickets here.
Musicals from movies in Barcelona
Mid September in Barcelona sees Broadway hits take precedence in Barcelona venues: Pretty Woman: The Musical, written by Garry Marshall and J. F. Lawton, with the music and lyrics by Bryan Adams and Jim Vallance, makes its Spanish-language debut at Teatre Apolo on the 22 September to the end of November. The rich boy meets high-class prostitute girl fairy tale is based on the 1990 movie starring the enduringly gorgeous Richard Gere and Julia Roberts.
The same month Teatre Tívoli presents blockbuster musical Ghost (from 30 September) with a clear nod to the 1990 film, based on Bruce Joel Rubin's text and Dave Stewart and Glen Ballard's music. The lucky Demi Moore-lookalike Cristina Llorente as Molly experiences a sensual haunting by David Bustamente or Ricky Merino, who step in for Patrick Swayze as deceased lover Sam on alternate nights.
Teatre Tívoli chases Ghost with what may well be the highlight of the season; Grease The Musical is a hugely successful show based on the 1978 film, itself based on the 1971 stage musical by Jim Jacobs and Warren Casey. Named after the 1950s US working-class youth subculture, known as greasers, this timely homage to the late Olivia Newton-John takes the Christmas slot from 14 December. Alejandro Serrano and David Serrano translate the work, with Mia Lardner and Lucia Peman playing Sandy, and Quique González as Danny, famously played in the movie with eye-popping brilliance by John Travolta.
For tickets check here.
Musicals in Catalan
Catalan-language musicals take the stage with aplomb: Teatre Condal's Golfus de Roma (English title: A Funny Thing Happened on the Way to the Forum) is a must-see starring Jordi Bosch (23 September to 11 December); set to music by Stephen Sondheim and book by Burt Shevelove and Larry Gelbart, Daniel Anglès (who also directs) and Marc Gómez have successfully grappled with the entertaining translation.
Much excitement too has generated around the 18 November through 18 December launch of musical comedy Pares Normals at Teatre Poliorama. An essential introduction (or celebration) of the music of pop folk heroes Els Amics de les Arts contemplates the vastly overrated quality of 'normality'. Coming in the springtime (likely March) is Dagoll Dagom's sophisticated staging of L'alegria que passa, a musical theatre-piece by the late 19th century playwright Santiago Rusiñol, adapted by Marc Rosich and Andreu Gallén and set to its original music by Enric Morera.
Musicals for children
Dagoll Dagom's foray into a musical for children is back after a celebrated first season: Bye Bye Monstre set to music by Dàmaris Gelabert is aimed at 5 to 10s and performed on 3 to 18 December at Teatre Poliorama. Plus a welcome return for Christmas staple El petit príncep (The Little Prince); Àngel Llàcer, Manu Guix and La Perla 29's coproduction has amassed 200.000 spectators to date – and its short run from 5 to 11 December may well sell out at Sala Paral·lel 62 (formerly known as BARTS). Rumour has it that the kids show El monstre de colors based on the book by Anna Llenas could make a reappearance at the Goya Teatre near Plaça Universitat. All these are in Catalan.
Small format affairs
Two other musical works rather more leaning to adulthood are: Guillem Albà and Joan Arqué's Canto jo i la muntanya balla (When I Sing the Mountain Dances). Based on the book by Irene Solà, adapted by Claudia Cedó with music by Judit Neddermann, this hybrid piece that draws on local legend melds mime, text, and live music. It is performed in Catalan at the lovely Biblioteca de Catalunya from 7 September to 2 October.
Last, but certainly not least is timeless contemporary classic: Autónomos, el musical. On its seventh run at Golem'S (formerly Almeria Teatre) in Gràcia, Álex Martínez Vidal and Andreu Rami grapple with the utter horrors of freelance life and the cruel ways of the Agencia Tributaria. Experience it in Spanish and in Catalan from 28 October to 10 February.
For tickets and promotions click here.